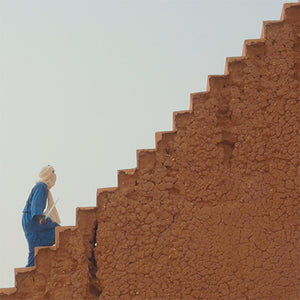 Zerzura Original Soundtrack Recording
Original soundtrack recording to the film Zerzura, the first ever Saharan acid Western, telling the story of a nomad's search for a magic city of gold. Evoking the desert journey with free form guitar improvisations, the soundtrack is a meditation on the mysteries of the Sahara. Composed by writer and actor Ahmoudou Madassane, the instrumental score takes the familiar Tuareg guitar tradition into new directions, transforming desert blues into ambient soundscapes.
Recorded in studio while watching footage from the film, the score was recorded in live and spontaneous takes. Heavily based around the electric guitar, Madassane also plays a handful of other in-studio instrumentation (prepared piano, Moog, Timpani) and is joined by a number of collaborators, including guitarist Marisa Anderson.

A prolific and backing artist in a number of groups (Mdou Moctar, Les Filles de Illighadad), Madassane is well versed in Tuareg guitar folk and draws inspiration from this tradition before veering off into uncharted territory. Pieces fluctuate in timing and break free from standard rhythm, moving from melancholic serenity to blurry psychedelic fury. An experimental foray for Tuareg guitar, Zerzura is the first of its kind.
SS-046