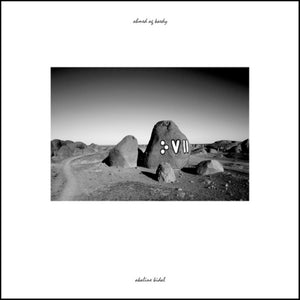 Ahmed Ag Kaedy - Akaline Kidal

In exile from his city in Northern Mali, singer/songwriter Ahmed Ag Kaedy returns to the origins of Tuareg folk with sessions of stripped down solo acoustic guitar. Mellow pentatonic notes dance over plaintive vocals, intimate and close mic'd, endearing in their simplicity. Drifting from melancholic ballads and pleas for peace, "Akaline Kidal" is a politically charged and poignant recording for a community ripped apart by division and civil war.

While the Tuareg guitar genre is popularized by rock heavyweights like Tinariwen and Bombino, the origins of the genre are in simple acoustic arrangements. Created in the 1980s as political folk music, the first recordings were made on contraband cassette tapes. Distributed on underground networks, the music spread throughout the diaspora, planting the seeds of revolution and establishing Tuareg guitar sound.
Recorded onto 8-track cassette tape in a basement studio in Portland, Oregon, "Akaline Kidal" is a call back to these early recordings. Captured in continuous single takes, the effect is unfiltered and raw. Like his predecessors, Ahmed Ag Kaedy imbues his songs with a pointed focus as he transmits a message home. Available on LP and cassette, accompanied by full song translations.